Healing Your Body from the Inside Out | 9 Recipes to Reduce Inflammation [Recipes]
In one of our recent articles we highlighted some of the most beneficial foods to include in your diet to fight inflammation. Supplements are a great course of action when your body needs an extra boost, but healing yourself from the inside out doesn't have to include a cocktail of pills. Reducing inflammation in your body and boosting your immune system can be achieved with the simple addition of some common household superfoods. Reduce pain and improve your recovery by incorporating some of these foods and recipes into your life!

1. Infused Water or Tea
For thousands of years both ginger and turmeric have been used in India and Southeast Asia as medicine and were typically consumed in tea. Why not get a healthy dose of both ingredients with this Anti-inflammatory Ginger & Turmeric Tea. Or try a simple cup of turmeric tea. I confess I'm a 'coffee first' kind of girl in the morning but I drink ginger tea throughout the rest of the day. It's so easy to steep your own, just chop and crush some ginger, add a slice of lemon and hot water et voilà! Feel free to experiment and add more herbs & spices for flavor like this recipe does.
2. Tropical Ginger Smoothie
After your ginger & turmeric tea, give your morning an extra boost with this Tropical Ginger Smoothie. Add a scoop of plant-based protein or some greek yogurt for protein and a more filling, balanced breakfast. I recently discovered Siggi's incredible yogurts, try adding their fat-free plain yogurt to give your smoothie a creamy texture & protein with little taste. Switching out the mango for pineapple or papaya would also give your gut an added boost as both provide natural sources of digestive enzymes that assist with protein breakdown.
3. Blueberry & Beet Smoothie
If you're looking for a nutritional powerhouse in one quick and easy meal then look no further than this Blueberry and Beet smoothie. Bursting with color and flavor, it also packs a healthy dose of antioxidants, vitamin C, fiber & potassium! The recipe calls for coconut milk but I would switch that out for unsweetened cashew milk (which has minimal macros) and then add in some walnuts for a natural source of omega-3. Boom! I love that there's also unflavored collagen peptides as a suggested alternative to protein powder – a great way to add protein without altering taste as well as providing a boost to your body's connective tissue. This smoothie packs an impressive punch and anti-inflammatory nutritional profile. You'll be feeling as bright as a blueberry in no time!
4. Curried Pumpkin Soup with Coconut
When I lived in England I think I had soup nearly every day during winter! There's nothing more comforting and warming than a delicious bowl of piping hot soup, especially when made with energizing spices and a hearty blend of pumpkin and coconut milk. Try this super simple recipe from Naturally Ella for Curried Pumpkin Soup. Turmeric is a fat soluble ingredient so the addition of coconut milk will enhance your absorption of the compounds that make turmeric so good for you. For the curry powder I highly recommend JCS Jamaican Style Curry Powder as it blends turmeric, ginger and black pepper which makes their bioactive ingredients more readily available.
5. Spiced Lentil Soup
Not a fan of pumpkin? Then give this hearty lentil soup a try from Oh She Glows! soup isn't just good for the soul. The lentils will provide you with a good source of fiber giving your body's digestive system a helping hand too.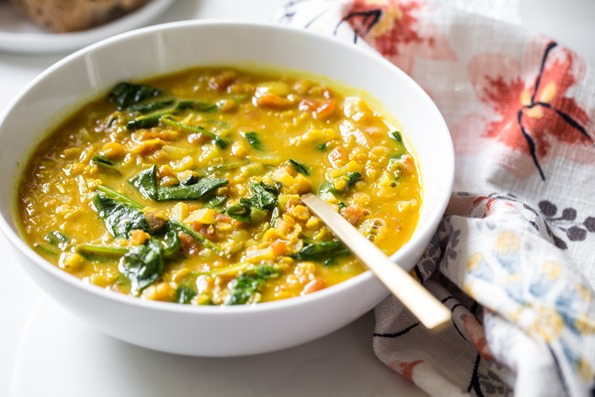 6. Tuna Burger with Wasabi Mayo
Living in Florida where we have an abundance of fresh fish I try to incorporate as much seafood as possible into my diet. Tuna is particularly plentiful and a meaty yet lean fish. I can't wait to make up a batch of these Tuna Burgers with wasabi ginger mayo. I'm practically drooling just thinking about them! If fresh tuna is not so easy to come by, this wasabi mayo & pickled ginger would still go great with lean ground turkey meat or a salmon fish patty for an added boost of omega-3.
7. Cilantro & Garlic Meatballs
This is a great recipe for making in bulk as these meatballs are super easy to store in baggies in the freezer. These meatballs are especially designed for people with autoimmune conditions like Rheumatoid Arthritis, Crohn's & Colitis as they contain powerful healing ingredients like cilantro, garlic and ginger.
8. Life-Changing Bread
Oh my gosh, this bread seriously is LIFE-CHANGING! It's made entirely of whole, gluten-free grains and is full of fiber – I can never seem to get enough fiber in my diet so I am ALL about this bread! It doesn't need to be kneaded so it's super easy to make too. Personally I think it's best enjoyed hot out of the oven or toasted and served alongside a deliciously warming bowl of soup. YUM!
9. Spiced Carob Ginger Turmeric Cake
I think I've always been one of those people that loves a sweet & savoury combo. Add a little spice in there and I'm 100% sold! Anyone else out there who'd rather a slice of McVities ginger cake over a chocolate hobnob? OK maybe it's just me but seriously don't knock it till you try it! Or better yet make your own. I love this clean version that mixes turmeric and ginger tea in with its dry ingredients. Why not serve it up with a dollop of spiced whipped coconut cream for extra deliciousness?!
Give them a go and let us know what you think! What are your favorite anti-inflammatory or healing recipes that have you feeling your best? Please share!